Map options menu#
Advisories#
Toggle to show/hide Advisories on the map. See Advisories for details.

Airspaces#
You can change the behavior of the airspaces on our map form this menu. In particular you can select the vertical separation limit until which we display the airspace. You may also select the type of airspaces you wish to see.
Guides#
Configure the way the map displays navigation information
the road to the next waypoint

the trajectory tendency

if you want to see large runway direction indicators

Wind vectors

darken the map above a certain height
Maps#
Select the charts among those you own and have installed (See Store) you wish to see on top of our SmartChart.
The first one is displayed above the second and so on. You may reorder the charts by drag and drop. SmartChart is always at the bottom and may not be disabled.
NOTAM#
You may set display properties of the NOTAM from this menu. See NOTAM for description of our NOTAM management.
Obstacles#
Air Navigation Pro offers a large database of obstacles to the navigation, not only AREA 1. From this menu, you may review the last update, and hide obstacles that are very low below you.
For select countries, you can color some power lines according to their height above ground. Currently only applicable to Norway.
Note
To see this menu entry, you need to acquire the Obstacles product, either as standalone, as part of our subscriptions plans, or if your Air Navigation Manager organisation provides a specific database.
Terrain awareness (TAWS)#
You can toggle to enable/disable the Terrain awareness on the moving map and in the 3D EFIS module (see 3D view (EFIS)). Enabling it will display a layer on the map showing terrain that is at or above current altitude.
There are 2 different colors:
Red - Terrain zones above current altitude

Yellow - Terrain below current position up to 50 meters
Traffic information#
This option requires you to have an internet connection, an ADS-B, or a FLARM device. You can choose here whether to display other aircrafts as simple arrow shapes (enabled) or with the corresponding standard TCAS symbols (disabled).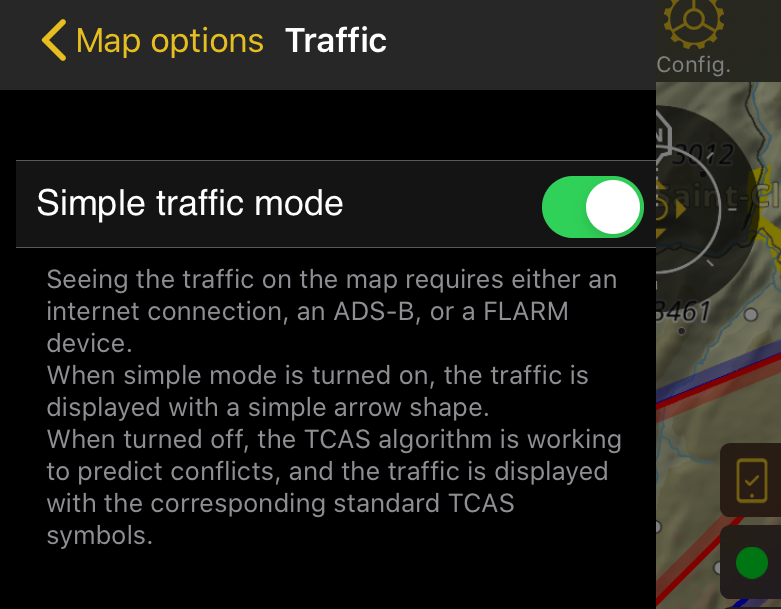 Waypoints#
You can define here the waypoints to be displayed. You can show/hide our database, useful if you have your own (via Air Navigation Manager for example).
You may filter aerodromes for short runways (and you can define what you mean by 'short'), and you can filter to only show those with asphalt/concrete surfaces.
Profile view#
You can hide/show the profile view.