Moving map#
Introduction#
The Moving map is the heart of the application. It is where you spend most of the time interacting with Air Navigation Pro. It displays the necessary information to easily (and safely) plan your flight and navigate. Once you allow the application to access the GPS, your location is shown on the map.
On the moving map you can see the following:
You can also see other aircrafts when your mobile device is connected to the Internet, to an ADS-B or FLARM Module.
Map interactions#
You can interact with the moving map by using familiar touch gestures:
Tap a waypoint, airspace, weather station or NOTAM to reveal detailed information about it

Touch and drag to pan the map

Pinch with two fingers to zoom in/out

Touch with two fingers and rotate to rotate the map
Here is how the moving map with SmartChart looks with an Approach Chart on overlay, a planned route, airspaces and some NOTAMs
Scaled at 1.5 NM, here is how the moving map with SmartChart looks with an Approach Chart on overlay, a planned route, airspaces and some NOTAMs.
The same moving map with the Approach Chart overlay disabled.
SmartChart#
What is SmartChart ?#
SmartChart is a worldwide chart that comes included in any of our subscription packages (Basic, Standard and Premium). The application generates the map in real time by leveraging topographic and aeronautical data. The quantity of data to represent the earth is huge and cannot be stored entirely on your device.
As a result, SmartChart will select the most relevant data and download it automatically for offline usage.
For safety reasons, some data is always on the device:
Aeronautical database of airspaces and waypoints (worldwide)

Country borders (worldwide)

Mora Grid (worldwide)

Any third-party chart, approach chart and map installed by the user
SmartChart will automatically install (and update) terrain, satellite images, landmarks, and so on
around your position

around your current route

Around the point and route of your choice
Within a certain space limit, all the data that is downloaded is kept.
Key benefits of SmartChart:
Readability of the chart at all zoom levels

Additional information on the charts

Clarity of the valleys

Labels always readable no matter the orientation of the chart

Dark mode support

Same design in all countries

Fine tuning

Works perfectly at extreme latitudes

Satellite view
Users can request to download a specific area around a waypoint to make it available offline, find out more in SmartChart downloads.
Easy to fly thanks to SmartChart#
Due to the data being downloaded dynamically, you can immediately see everything in your surroundings and you can get ready to fly.
It's possible to zoom out and see the whole globe, making it easier to jump to a different place.
Mora Grid#
It shows on the map the safe altitude of the area to avoid any collisions with the ground and/or obstacles.
VOR Rosas#
VOR Rosas is centered on NAVAIDs and it is shown as oriented to magnetic North.
Toponyms#
Natural territories (mountains, rivers, lakes, etc.) and geographical entities (cities) of the country are shown on the map. Toponyms are displayed to help pilots have an easier navigation and awareness of their position.
Land covers#
The base terrain is colored according to land cover: forests, cities, swamps.
Waypoints#
Introduction#
You need to have an active subscription to access the waypoints database. It is updated at each AIRAC cycle, i.e. every 28 days. You can see Map options menu all the type of Waypoints that we offer.
Air Navigation Pro has over 210,000 waypoints worldwide displayed on the map. These waypoints can be easily searched and added to your route, and you can import additional waypoints yourself. By tapping on them, information is revealed. We also provide an easy way of creating your own waypoint just by a few steps!
Waypoint Search#
Can be accessed on the Menu bar > WP, a quick search will let you type an identifier, a name or coordinates that will instantly list matching waypoints. Tap a result to see further information about the waypoint, center the map on it, and more.
Search by Identifier#

By inputting at least 1 character on the search bar, the search results will appear for text matching:
Waypoint Identifiers (ICAO Codes, etc) including user created waypoints

Waypoint names including user created waypoints

Document names associated with a waypoint The results are grouped in lists.
Airports appear first, then radio navigation beacons, fix and intersections and then other waypoints.
Search by Coordinates#
You can enter coordinates in the following formats/grids/datums:
| | |
| --- | --- |
| WGS84 in DD:MM:SS | Irish grid without zone |
| WGS84 in DD:MM.decimal | Irish grid with zone |
| WGS84 in DD.decimal | NZ Grid 1949 |
| Standard UTM | NZ Grid 2000 |
| UTM with bands | Swissgrid (CH1903) |
| UPS | UK Grid without zone |
| MGRS 100m | UK Grid with zone |
| MGRS 10m | Swedish grid RT90 |
| MGRS 1m | Swedish grid SWERED99TM |
The search feature will try to interpret the input to match the correct datum. In order to avoid ambiguity between grids it is necessary to enter the 2-letter code of the target country: Irish grids: IE, New Zealand grids: NZ, Swiss grid: CH, UK grids: UK, Swedish grids: SE.
EXAMPLES:
| | |
| --- | --- |
| Formats/grids/datums | Entered value |
| WGS84 in DD.decimal | 44.8943 5.4535 |
| WGS84 in DD:MM:SS | 23:34:56N 145:12:01W |
| Swissgrid | CH 553986 200005 |
| Swedish grid | SE 6669189 486557 |
| MGRS | 32TKR6770698424 |
If a valid coordinate has been entered, the result will appear on the first line of the search result. A true bearing and distance from the current GPS location will be displayed as well. This is not a waypoint result from the database but a location. You can use it to create a Direct to, Add to your route or even create a new User waypoint at this location.
Searching relative waypoints#
By using similar syntax as when looking for coordinates and adding commands, it is possible to create waypoints relative to a known location. 3 modes are available:
Location, Radial/Bearing, Distance

Location, Radial/Bearing, Speed, Time

Location, Radial/Bearing, Location, Radial
Note: components must be separated by a comma
Location: can be either a coordinate or a waypoint identifier
Direction: can be true bearing or radial.
True bearing will be an angle from 0 to 360 and prefixed with a B, e.g. B055.

Radial will be treated as a magnetic bearing and will be an angle from 0 to 360, prefixed with an R, e.g. R220. It will be converted to true by using the current magnetic variation model.
Distance: a value in nautical miles prefixed with a D. An optional suffix will allow using other units. Example: D120KM. Supported units:
SM (Statute miles)

KM (Kilometers)

M (meters)
Speed: a value in knots prefixed with an S or GS. An optional suffix will allow using other units. Example: S100KMH. Supported units:
MPH (statue miles per hour)

KMH (kilometer per hour)

MPS (meters per second)
Note
Using S will account for the wind to compute the distance (if weather data is available)
Time: can be a relative in minutes or an absolute time in HH:MM UTC, prefixed with T or AT for absolute. Example: AT08:21
Examples
Location, Direction, Distance
Creating a waypoint knowing a radial and DME to a navigation aid. For this we need to enter the following information: Location of the navigation aid (ICAO Code or Coordinates), radial and distance to the aid (in Nautical miles, Statute miles, Kilometers or meters).
Let's say I want to create a point that is on radial 275 of the VOR of Geneva (GVA) at 25NM. I will enter the following in the tool: GVA, R275, D25
Alternatively, you can enter the coordinates of GVA: 46:15:12 N 06:08:14 E, R275, D25
If you want to use true bearing instead of radial just change the R for a B.
To change the distance unit just add SM for statute mile, KM for Kilometer or M for meter at the end of Distance. Example: GVA, B275, D25KM
Location, Direction, Speed, Time
Let's say you are flying and you are requested by ATC to report your position 5 minutes after passing over GVA. You are flying at 108 knots GS and you are on the radial 275 of GVA. You can enter this String and the tool will search for that point: GVA, R275, S108, T5
You can also enter a specific time in UTC. Use the Code AT before the time for this: GVA, R275, S108, AT12:58
You can also enter the speed in statute miles per hour, kilometers per hour and meters per second. Enter just MPH, KMH or MPS after the speed.
Location, Direction, Location, Direction
Creating a waypoint knowing the radials of two navigation aids.
You can create a point easily by entering the following information:
Navigation Aid 1, Radial 1, Navigation Aid 2, Radial 2. GVA, R100 , SCS, R320
Of course you can use coordinates or bearings for the above command.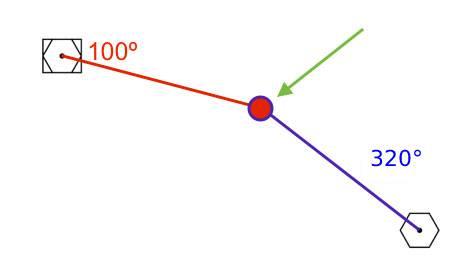 Search by geocoded places#
It is also possible to search by the name of a locality, street, landmarks, etc.
First you need to acquire and install our product 'Streets and places search'. Once installed, you will be able to search for places like hospitals, streets, and many other points of interest. You can use these points as regular waypoints by adding them to routes or showing them on the map.
Nearby Waypoints#
You can access all nearby waypoints in relation to your current location by going to WP > Nearby.
With Nearby search you can visualize nearby waypoints and their details within 80 NM radius of your position.
To filter by waypoint type, tap any of the types displayed at the top of the window to select or deselect it.
Tap the
icon to reveal the details of the waypoint with menu actions; 'More options' and 'Centre on map'.
Airspaces#
We have more than 65,000 airspaces containing different classes and just like waypoints, the app will display airspaces offered by our aeronautical database after installation and you can import them yourself.
You can also select which airspaces to show/hide and filter them by altitude in Map > Airspaces. To have more information, see Map options menu.
Some NOTAM activate airspaces: the default airspace status may be inactive (grey), and when a NOTAM activates it, it changes color rto become red (usually).
Weather stations#
Air Navigation Pro displays on the map reliable weather stations that are regularly updated. Tapping on the weather icon displays the weather information.
METAR/TAF stations have different coloured cloud icons which are to let you know about the flying condition: - Green with "VMC" - VMC - Visual Meteorological Conditions (VFR allowed) - Amber with "VMC" - Marginal VMC (Close to the limit for a VFR flight) - Red with "IMC" - Instrument Meteorological Conditions (Only IFR flights) - Black with "TAF" - No METAR but has TAF data - Grey with "-" - No data/network available or loading in progress
Air Navigation Pro reads the METAR and TAF and shows them in a user-friendly readable format. You can see the raw METAR/TAF by enabling the option "Raw METAR/TAF" under Configuration > Settings > MISC.
NOTAM#
General information#
Air Navigation Pro provides NOTAM information. This feature comes with your Basic, Standard or Premium package. NOTAMS are continuously updated when you are online. NOTAMs that are active are highlighted.
Not all NOTAM are displayed on the map: Air Navigation Pro filters out the least relevant ones to display only the most pertinent information. All NOTAM are still available when creating a preflight information briefing (see Briefing).
Air Navigation Pro also hides NOTAM which will be applicable in a long time. You can change the activation period in Map > NOTAMs, see the options in Map options menu.
You can tap on any NOTAM to obtained detailed information. Some NOTAM also relate to documents that may be downloaded and viewed directly from Air Navigation Pro, for example SUP.
Types of NOTAMS#
With their exact shape#
When Air Navigation Pro knows the exact shape of the NOTAM, it will display it precisely on the map.
Displayed as a circle#
When the geometry of the NOTAM cannot be determined, and if the radius is small enough, it is displayed as a circle centered on the NOTAM position.
NOTAM belonging to an aerodrome#
This NOTAM is seen in a triangular icon with an exclamation point. Example is a NOTAM about the runway of an aerodrome, the NOTAM icon is attached to the icon of the aerodrome.
NOTAM belonging to an airspace#
If the NOTAM belongs to an airspace, Air Navigation Pro can sometimes detect it and display the Notam in the airspace, rather than displaying a circle all around the airspaces. Tap on the airspace to get more information about the NOTAM.
Note
Some NOTAM change the airspace activation status, applicable to Restricted and Danger airspaces.
For obstacles#
NOTAM for obstacles are displayed as obstacles with a Notam icon.
Announcing UAV or modelling#
Without tapping on them, you can already see when NOTAM announces UAV or modelling because it is written in its border
Advisories#
They are published by other users to inform about special activities in the sky.
Air Navigation Pro offers you to see advisories published by other users and to publish your own.
Note
For Air Navigation Manager customers: the advisories may be created and edited from the web service.
Life cycle#
For advisories where the user is the author, they are displayed at all times up until they expire. While advisories that come from other users, they are displayed 12 hours before their start period and disappear as soon as they expire.
Publish Advisories#
You need to have an Air Navigation account. See your Account in Configuration > Account

Move the map to where you want to create an advisory

Long press on the moving map

Select Publish Advisory activity

Provide all necessary information on the Advisory window: Radius, Max elevation, Start and End of activity, Type of advisory, Number of aircraft and Message.

Tap Publish
Edit Advisory activity#
You can only edit your own advisories.
Tap the advisory activity on the map

Tap Edit on the popup window

Edit the details you want to update

Tap Publish
Remove Advisory activity#
You can only remove your own advisories
Tap the advisory activity on the map

Tap 'Delete'
You can also opt to show/hide them on the map in Map > Advisories, see Advisories.
Obstacles#
General information#
Air navigation can display obstacles on the map. Obstacles can be acquired as individual products or from a subscription package. The database is updated every week.
Obstacles can be shown/hidden then filtered by elevation by going to Map > Obstacles. See Obstacles for more information.
Types of obstacles#
Point#
Point obstacles are represented by icons, when many are roughly at the same place, only one icon is displayed instead of one icon per obstacle. When you zoom in, the more there is space on the map, the more you have obstacles on your map. Zooming-in will never make an obstacle disappear.
Icons:
Lines#
There is no decluttering for lines; once you zoom-in enough to display them, they will be displayed.
For Norway, ANP provides ways to filter the colors of power lines in Map > Obstacles.
Power lines are displayed with different colors depending on their height.
Power Lines in Blue: no known height (cannot be configured)
Power Lines in Green: height is less than 40m (40m is the default value and it can be configured)
Power Lines in Yellow: height is between 40m and 60m.
Power Lines in Red: height is higher or equal to 60m+ (60m is the default and it can be configured)
For Norway, ANP provides ways to filter the colors of power lines in Map > Obstacles (see Obstacles).
Surface#
These are rarely used but displayed on the map in red border with "Obst." text. Example use of this is when there are several wind turbines in the same area, rather than identifying each turbine one by one.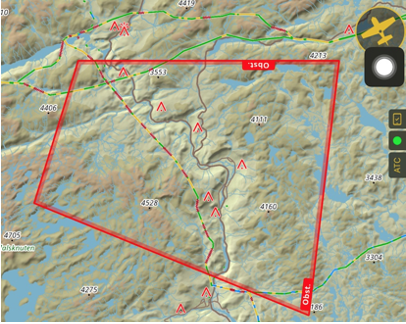 Third party charts#
Air Navigation Pro supports a wide variety of charts that can be displayed on the moving map. This feature is very helpful for users who are used to conventional maps but wish to navigate on them in a very less hassle way. The application provides reliable and accurate charts from third-party sources and can be acquired through the Store in the application or on our website. You can visit this page to check our partners that are providing these awesome charts.
Note
You can install one or more maps and display them all at the same time. When they overlap, they will be prioritized based on the list found in Map > Maps. See Maps on how to reorder them.
Approach charts#
Air Navigation Pro supports Visual Approach Charts and Instrument Approach Charts.